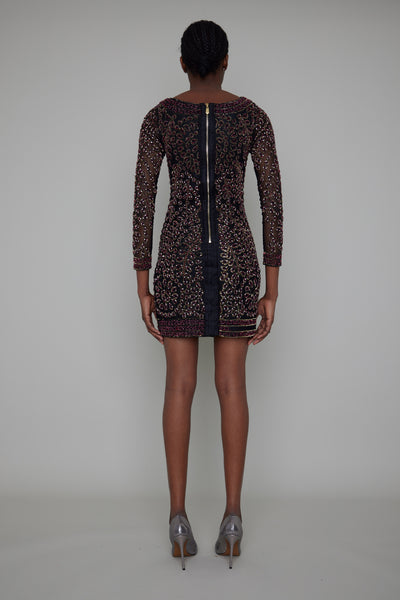 CHELSEA HAND BEADED LONG SLEEVED MINI DRESS
* EMAIL store@richardsradcliffe.com TO ORDER *
Garment Description
Long sleeved, slash neckline with fitted body mini dress with all-over hand beading.
Central back satin panel with heavy topstitch zig-zag detailing.
In the middle of the back satin panel runs an exposed metal zip closure with logo zip puller. 
Mini length.
Fully lined.

Artwork Description
The dress has a stacked sequin, flat sequin, diamanté and bead encrusted 'Chelsea' hand beaded all-over placement artwork. 
Our Chelsea Beading artwork is created by hand from start to finish.
A graphic floral design generated with rows of stacked sequins, cup sequins, delicate diamanté and hand chain stitching. The design was created in London and is then placed and shaped to fit each and every garment silhouette. The base fabric is carefully stretched onto wooden loom frames and the design is meticulously drawn onto the fabric by hand. 

Groups of the most talented male and female skilled artworkers then sit at the loom and sew every sequin and stitch by hand to bring this design to life. The speed at which they can complete this process is quite incredible but even so the focus required is immense and the panels still take a huge amount of time to complete. One dress will take several days to hand bead.

The panels are then carefully removed from the looms and perfectly cut into the pattern pieces of each garment for delicately sewing together by expert machinists who know how to handle the soft, heavily beaded fabric.
Model Details
Height: 5ft 10″, 178cm | UK Size: 8
Fabrication
Main: 100% Synthetic Tulle Mesh.
Lining: 100% Viscose Satin.
Artwork: 'Chelsea' artwork with sequin, diamanté, and seed beading.

Wash Care
Specialist Dry Clean Only
Our Size guide